Ohio Machinery Co
d.b.a. Ohio CAT, Ohio CAT Power Systems, Mantsinen USA, The CAT Rental Store, Complete Hydraulic Service,International Fuel Systems, ConAgg Machinery, SITECH Ohio, Ohio Ag Equipment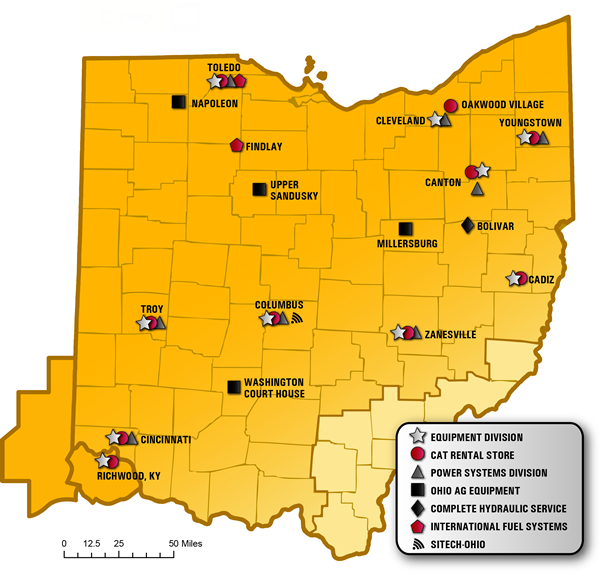 Headquartered in Broadview Heights, Ohio, Ohio CAT is the exclusive, authorized dealer for Caterpillar equipment and engines throughout Ohio, northern Kentucky, and southeastern Indiana.
Ohio CAT conducts its operations through three divisions: the Equipment Division, the Power Systems Division, and the Agri Business Division. In addition, the company operates CAT Rental Stores at 10 of its locations, re-manufactures and repairs all makes of hydraulic and machining components at its Hydraulics Division in Bolivar, Ohio (Complete Hydraulic Service), and provides leasing solutions through its wholly owned subsidiary, OMCO Leasing Corp.
To learn more about us - history, divisions, visions… visit our webpage www.ohiocat.com and select About Us tab
Procurement
Ohio CAT has a variated purchasing structure. It is a blend of centralized and decentralized purchasing systems whereas local sites make the purchases for their locations off of corporate negotiated contracts and source locally when not under contract. Any Vendor contract needs to be reviewed by Purchasing before approval.
Corporate Purchasing is responsible for the negotiation and contract management for the procurement of goods and services, in an ethical manner, providing the greatest overall value. We make every effort to lower our overall spend through leveraging our demand and through Supplier consolidation. We strive to select the best suppliers that are willing to continually develop the necessary skills to deliver the best possible products and services to Ohio Machinery. Purchasing provides functional leadership in procurement practices. We promote the benefits of standard policies, procedures and best practices to improve efficiencies and value to the organization.